Starfield really is the ultimate RPG, because you can flip which way round your toilet paper is (though not always).

One of the best parts of Bethesda's games is that there are tons of pointless little things you can do that really don't matter gameplay-wise, but help make the world feel a bit more real. Whether it's just sitting on a chair, or being able to pick things up and move them around, it just makes it all feel a bit more believable. Starfield continues that tradition, in one very important way: you can choose which way round your toilet paper hangs.

I know, I know, there are probably more important things you could be doing in Starfield's universe, but arguably making sure all the toilet rolls across the galaxy is the right way round? And by that I mean over, obviously, if you put it under then you should probably rethink your priorities in life.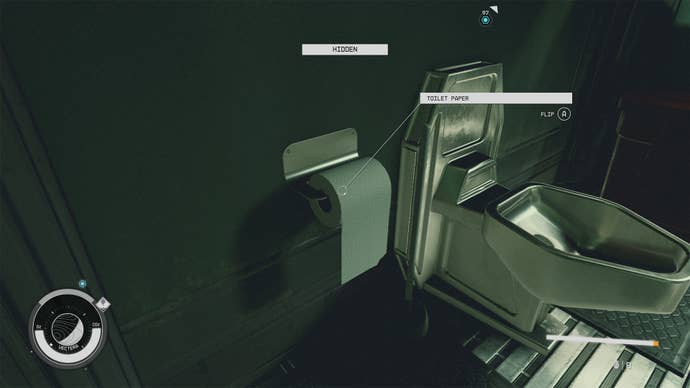 Weirdly, it doesn't seem like you can flip every single toilet roll you come across though. The screenshots you can see above were taken on Vectera, a moon on Anselon, where it was possible to flip the toilet roll around. Our own James travelled around a bit to find a toilet roll you can flip, and it seems at the very least you can't do it at the Dream Home, your parents house, and another bathroom in New Atlantis. It's unclear if this is just an odd little bug or if it's just not possible in certain locations. Why you can't do it in your own Dream Home, is very unclear, but hey, I'm not Bethesda, I don't make the decisions about where you can and can't flip toilet rolls.

Of course, if you want to try flipping your toilet roll in your own Dream Home, you're more than welcome to do so – and if you need any help finding where it is, we've got a nifty little guide which helps you with just that.
---
Pre-order Starfield today or get ready with discounted Game Pass codes
Starfield will be launching exclusively for Xbox Series X/S and PC (Windows) on September 6th 2023. Pre-order your copy of Bethesda's upcoming action RPG from the links below and get set for the new galactic adventure.
Players who pre-order the premium edition can play Starfield early from September 1st. That's five days before it lands on Game Pass! PC Players looking to upgrade their PC can also get Starfield for free when you buy select AMD Ryzen processors, AMD Radeon graphics cards, or a gaming system that contains both.
Alternatively, you can play Starfield on Game Pass on day one. Our shop here at VG247 is currently offering a 5 per cent discount on Game Pass codes and Xbox Credit – simply redeem the code "VG247" at the check out. The code is valid until 31st July, so stock up now to save money on a Game Pass membership or discounted Xbox Credit if you're buying Starfield on the Xbox Store.
GAMESLOVERS

"Stay in the loop with the latest in the gaming world! Our games news brings you up-to-date information on upcoming releases, industry trends, gameplay updates, and more. From immersive RPGs to heart-pounding action games, we've got your source for all things gaming. Level up your knowledge with our bite-sized updates on the gaming universe."