Starfield, much like any other Bethesda RPG, has plenty of players looking to be master thieves throughout space. Whether it's mastering digipick puzzles, smuggling contraband, or stealing everything in plain sight without being caught, some players want it all, regardless of how Encumbered it might make them.
As such, one player on the r/XboxSeriesX subreddit has found a spacesuit, helmet and pack in the basement of The Lodge – where the Constellation faction is based – in New Atlantis, and a way to steal it. If you've been fortunate enough to play Starfield already, you'll know that you find yourself at this particular base of operations at the beginning of the game.
The spacesuit in question is on a mannequin in a glass cabinet, and you need to be at 'Master' level with your digipicks before you can attempt to pry this case open and take home the goods. That said, the eagle-eyed player mentioned above has actually discovered that they can steal the whole spacesuit by peering through a crack in the glass cabinet that it's in.
How to get the rare spacesuit from The Lodge's basement in Starfield
If you want to grab this spacesuit for yourself in Starfield, enter The Lodge in New Atlantis once you have acquired the Lodge key. This is on the planet Jemison in the Alpha Centauri system, if you're lost!
From the entrance lobby of The Lodge, go through the door to your left and proceed downstairs into the basement. Then, take a left into the next room, and go right after that towards the painting on the wall.
In the room with the painting, look to your left where you will see the spacesuit in question locked inside a glass cabinet. It will require Master level digipicking to unlock the 'right' way, but if you get up close and focus on the cracks in between the glass, you should soon be able to select the mannequin itself.
It can be very finicky trying to make sure your cursor is in the correct place so that you can interact with the mannequin. However, just keep moving your cursor around the area on the image shown above, and you'll soon be able to grab the gear.
The mannequin will have a Mark I Pack, Mark I Space Helmet, and Mark I Spacesuit for you to bag, which is definitely a better set of gear than what you will have started the game with!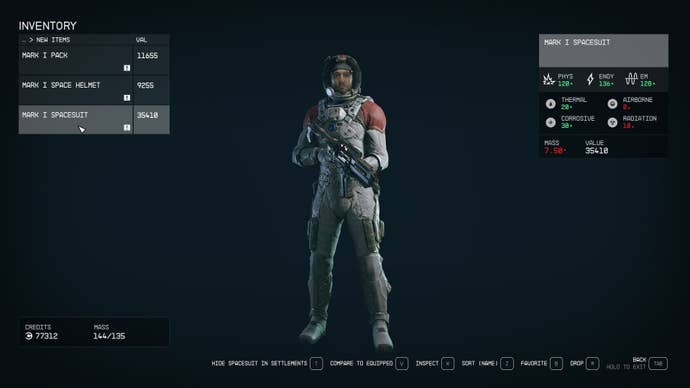 For more on Starfield, you should go and check out the Mantis quest. Not only will this land you more new gear, but a new ship, too!
GAMESLOVERS

"Stay in the loop with the latest in the gaming world! Our games news brings you up-to-date information on upcoming releases, industry trends, gameplay updates, and more. From immersive RPGs to heart-pounding action games, we've got your source for all things gaming. Level up your knowledge with our bite-sized updates on the gaming universe."