Hello gentle readers, and welcome to the SwitchArcade Round-Up for August 17th, 2023. In today's article, our pal Mikhail treats us to two full-sized reviews of some recent games. After that, we've got a bunch of new releases to look at, and there are some big guns in the lot. We've got summaries of all the ones worth summarizing, as ever. Finally, we've got some lists of new and expiring sales for you to peruse. There's a lot to read today, so let's get to it!
Reviews & Mini-Views
Vampire Survivors ($4.99)
What hasn't been said about Vampire Survivors by now? One of the most popular Steam Deck games since the system launched went on to release on Xbox and also mobile. I've written about it multiple times covering the game on Steam Deck, iOS, the DLC, and more since launch. I was always curious about how a potential Switch port would be based on how demanding Vampire Survivors gets in the late game with the frame rate dropping even on Xbox Series X. I've now played Vampire Survivors on my Switch and Switch Lite docked, with touch controls, and handheld for review.
Vampire Survivors on Switch is the same bullet heaven top down experience, but it arrives with all patches and content from the get go. Both DLC packs are available as well, but I couldn't test those for this review. If you've not played it yet, you play as one of many characters using a specific weapon to survive waves of enemies that keep getting stronger and explore huge maps that dramatically vary in structure. You slowly unlock more weapons, items, characters, and power up your character and build. Vampire Survivors has tons of unlocks, and it goes above and beyond with its value.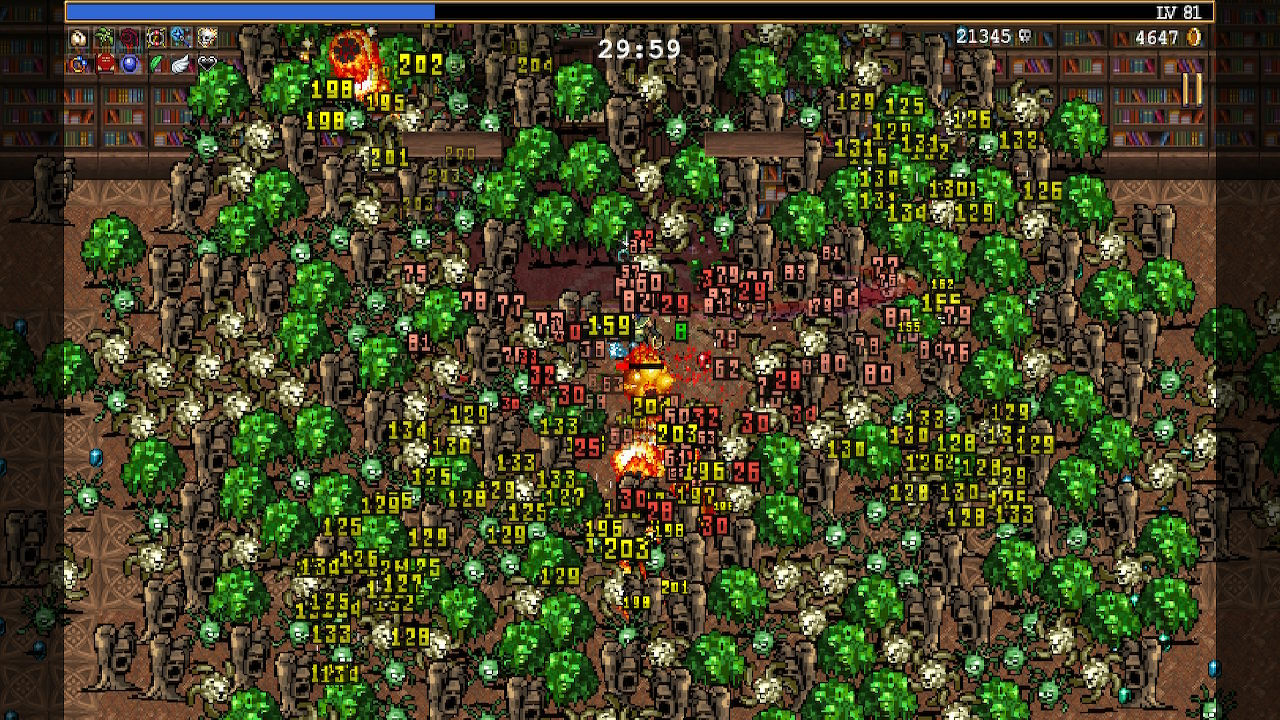 Since the Switch is the best local co-op platform with how the Joy-Cons let you basically carry two controllers to play tabletop anywhere, I was hoping Vampire Survivors would allow single Joy-Con play. It does, and I love how the co-op is handled. The individual controllers vibrate when you need to choose a powerup or make any decision in-game. Co-op is surprisingly great, and I'm sure it is going to pull an Overcooked on some friend groups you have with how much you can mess things up in a good way.
If you already own Vampire Survivors on another platform, the co-op mode in this release is coming as a free update later today or tomorrow depending on your timezone. It might even be out when you're reading this. The game contents are the same. The Switch version offers everything the others do, but has the benefits of being on Switch which means seamless docked and handheld play, cloud save support across Switch systems, and even touch controls for movement.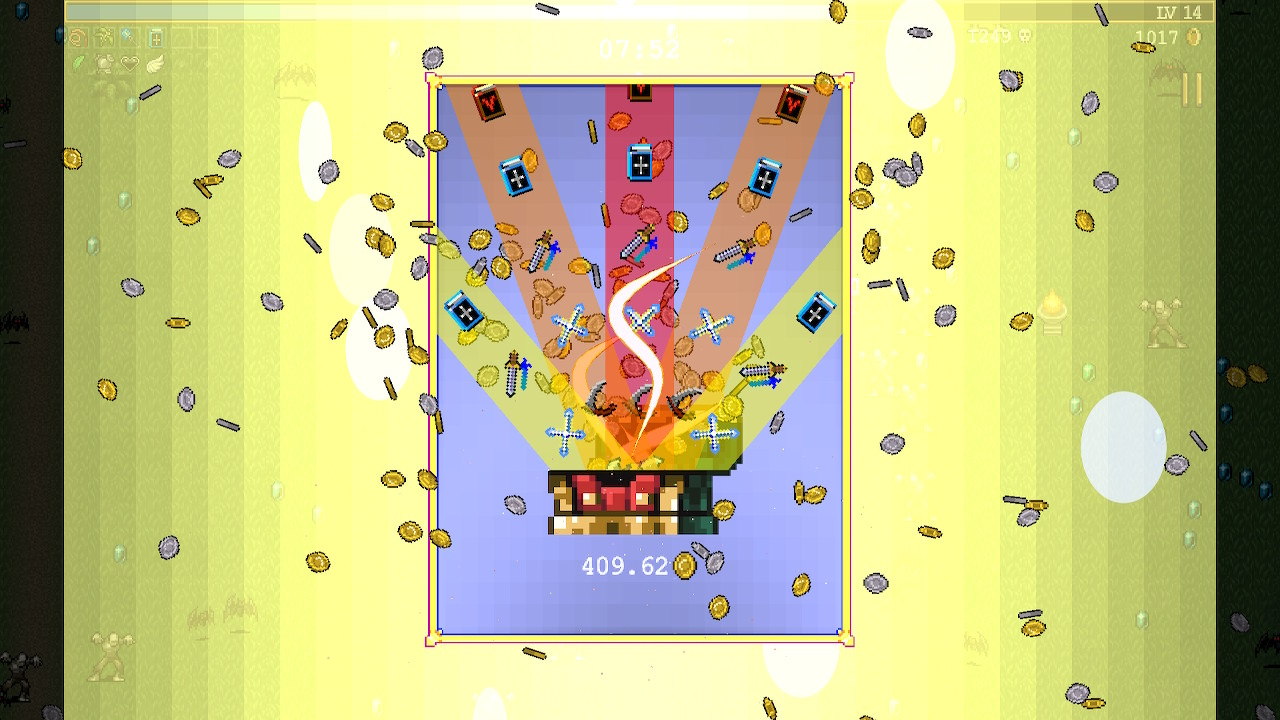 Visually, Vampire Survivors looks as it should on Switch. Performance is where it isn't as nice as playing on Steam Deck or Xbox. This is expected though given how complex things can get later on in a run. With everything considered and my experience in Vampire Survivors across every current platform, I'm pleased with the Switch port.
Vampire Survivors on Switch is everything I hoped for in a port and more. While it has some frame rate issues, which version of the game doesn't at this point? If you somehow haven't played it through its Xbox, mobile, or PC release, this is it. I didn't get to try the DLC yet, but Vampire Survivors is a perfect fit for Switch, and absolutely worth buying right now. Hopefully poncle can add in cross save support at some point so I can go from Xbox Series X to iPhone to Steam Deck to Nintendo Switch with my save file. -Mikhail Madnani
SwitchArcade Score: 5/5
Brotato ($4.99)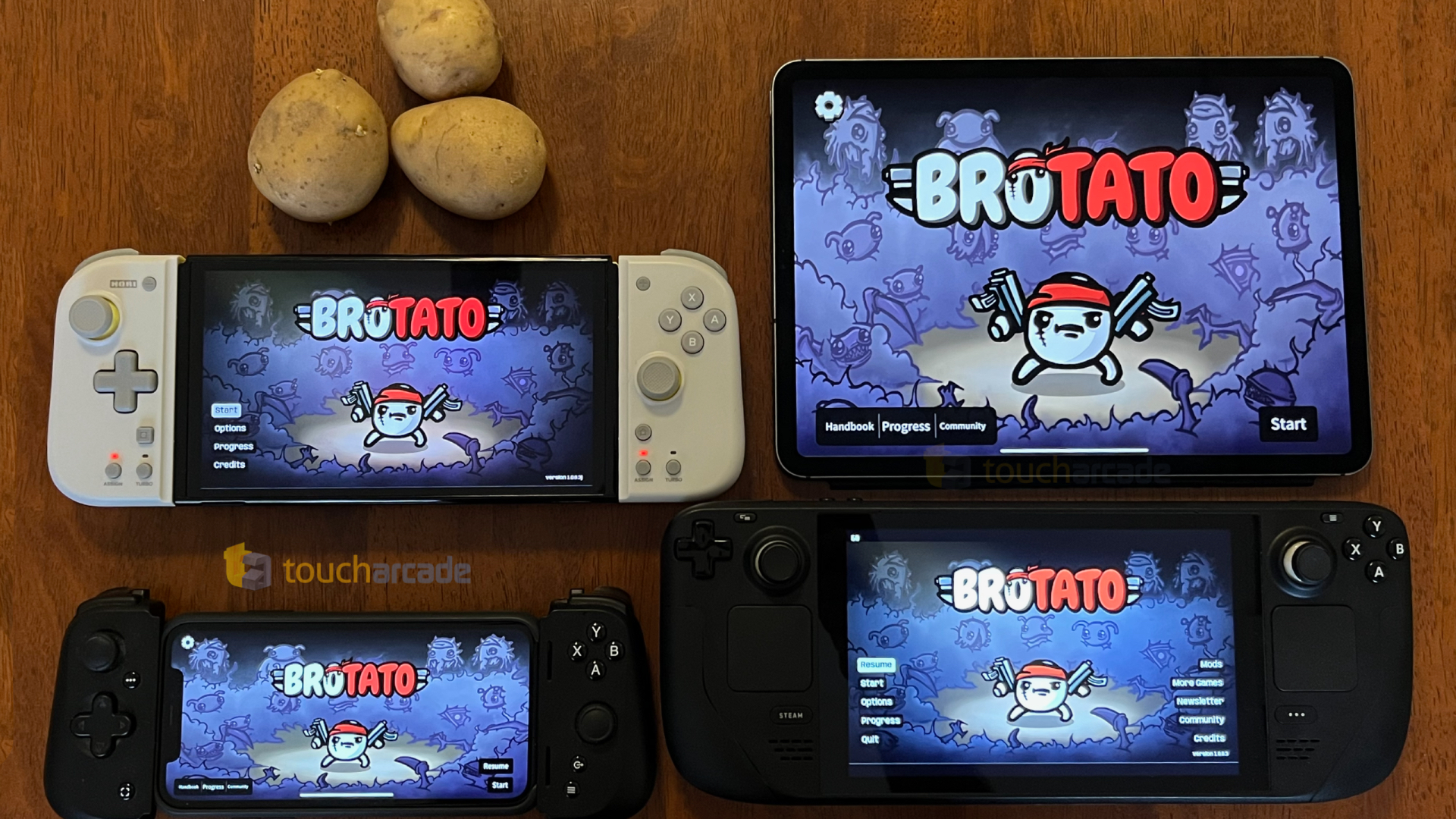 If you're familiar with Brotato at all, you might be wondering why it is worth getting when Vampire Survivors is available on Switch this week. Blobfish's take on the top down shooter survival game with Brotato is actually amazing and unique in its own way. It perfectly complements Vampire Survivors and is worth your time.
Brotato focuses more on its roguelike and shooter elements than Vampire Survivors does. Brotato's spin on the formula makes it fresh enough to play alongside Vampire Survivors, and it even excels in its Switch port. My issue with Brotato on PC and mobile also applies here. The music is forgettable and some of the art might not appeal to you. Calling it Isaac meets Vampire Survivors in its aesthetic is apt. This port is everything Brotato offered on other platforms, but now in a great conversion for Nintendo Switch.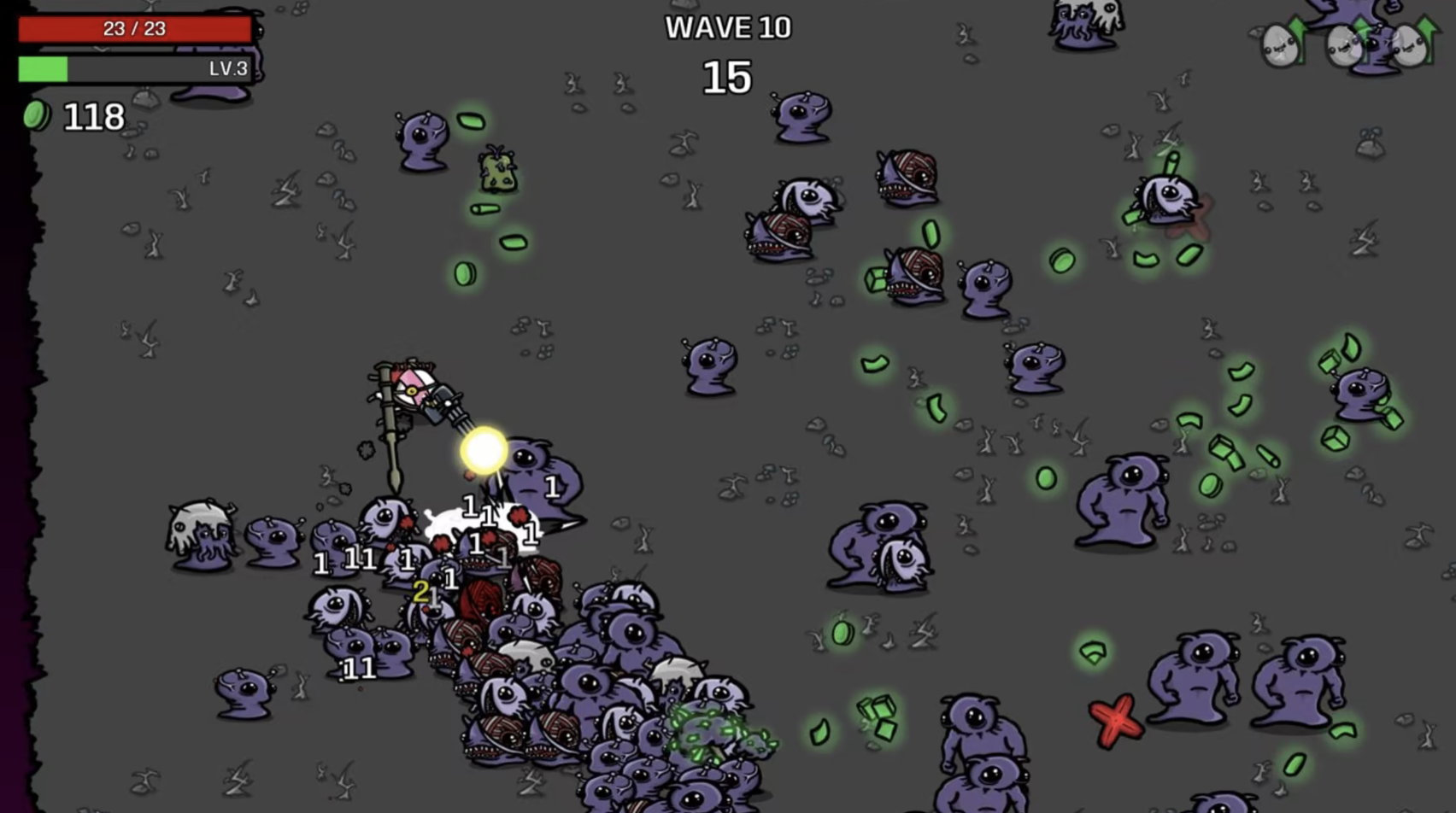 Brotato's structure has waves of enemies spawn, and you need to survive these waves while collecting powerups and more to make it to the next one. As you progress, you unlock more weapons, and Brotato gets a lot more chaotic given you play in smaller arenas versus the larger stages in other games like this. Being able to equip weapons and items only adds to the chaos.
Brotato has a lot of replay value thanks to the many characters you can unlock, but I want to highlight the accessibility options. You can tweak the experience to your liking and even make it much easier if you want. It is good to see these added. The Switch port also has touch support for menus, but seemingly not for the actual gameplay.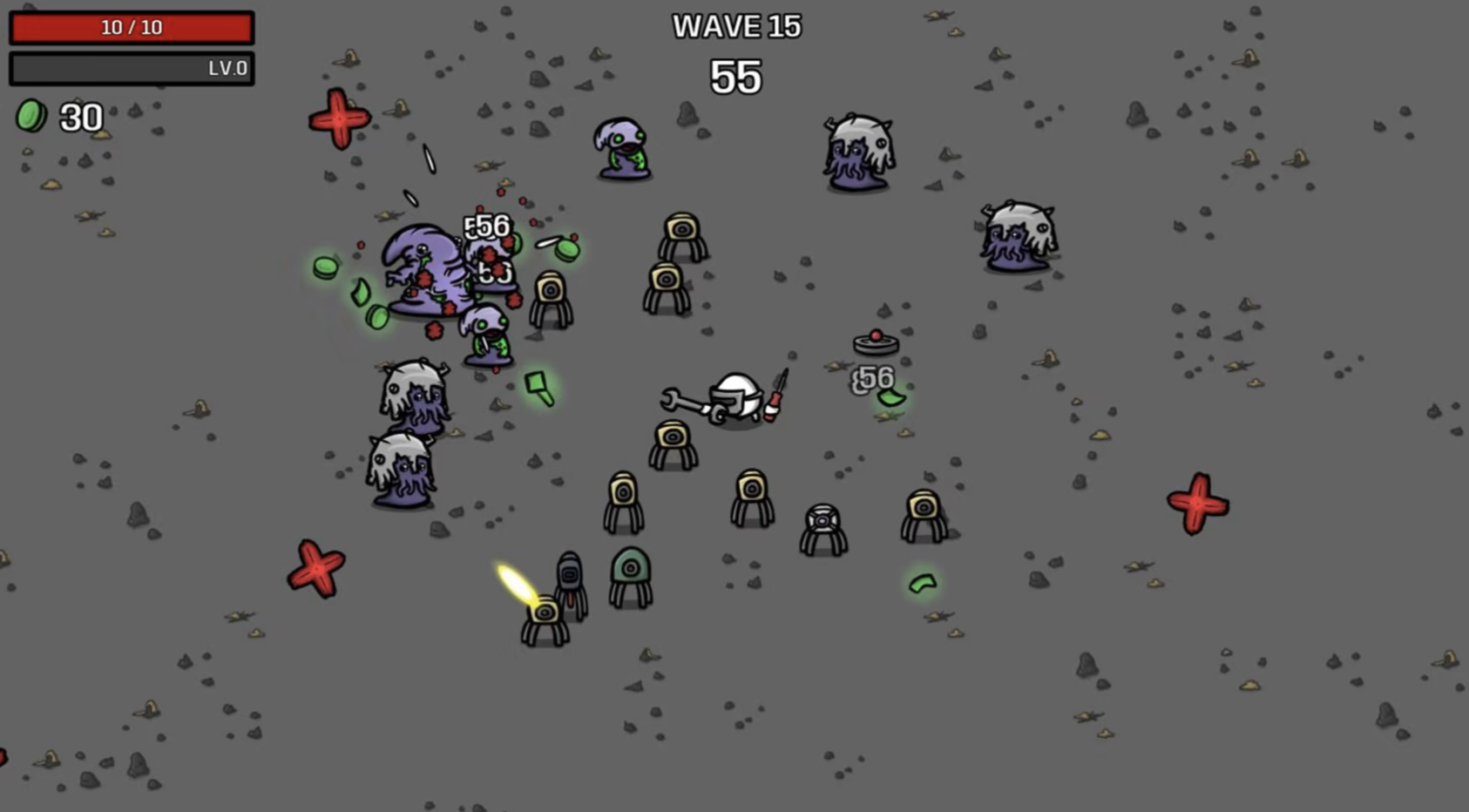 I love seeing unique takes on the Vampire Survivors formula, and Brotato is a different but excellent spin on it that is an easy recommendation. The structure and gameplay differences make Brotato feel fresh enough, and it is a very polished port overall at a low asking price. I hope to eventually see cross progression added in Brotato so I can bring my Steam Deck progress to Switch. -Mikhail Madnani
SwitchArcade Score: 4.5/5
Bonus: Should you buy Vampire Survivors or Brotato?
If you read my reviews of both games right above this, you should already know the answer to this question. Yes, you need to buy both. Just like potatoes and garlic, they go really well together offering incredible value for just $5 each, and have enough differences to stand apart with their gameplay loops. Both also have great Switch ports. Since both games are also perfect pick up and play experiences, I say buy both. You will not regret it. Hopefully Halls of Torment and Holocure hit Switch this year as well. Give me all of these games on Switch. -Mikhail Madnani
New Releases
Vampire Survivors ($4.99)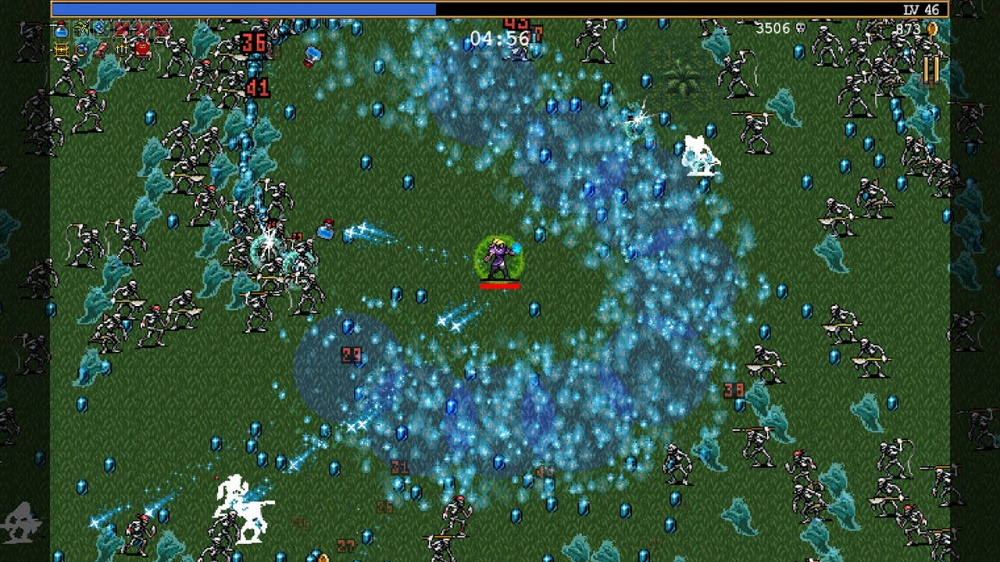 There are some games that don't really need to be introduced, and I think right here, right now, Vampire Survivors is one of them. The hit game has made its way to many platforms already, and now it's here on Switch. Avoid, attack, power-up, unlock. Our pal Mikhail has his own words about it which you've doubtlessly read already, but if you didn't, I must refer you to the above review.
Red Dead Redemption ($49.99)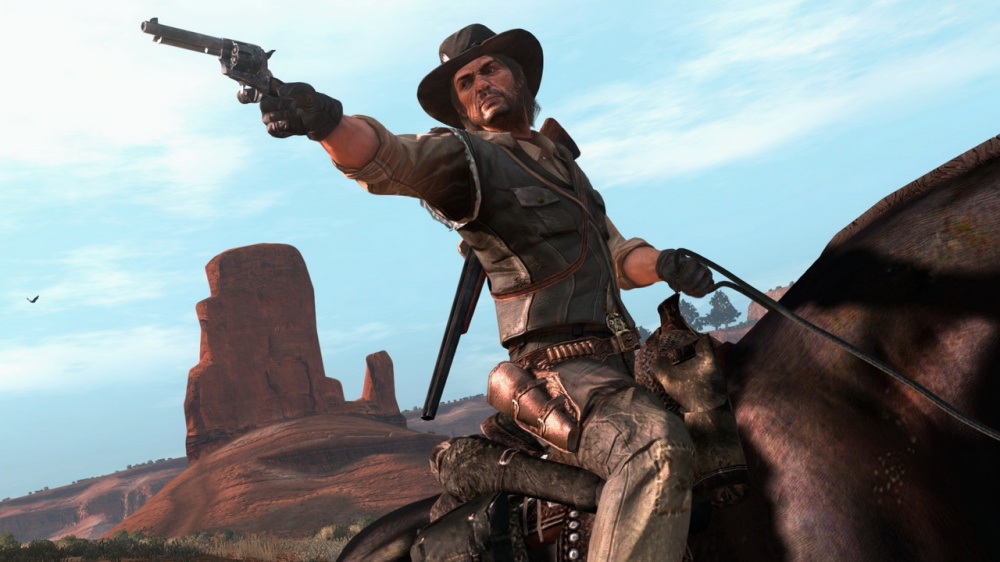 It's rare to see a noteworthy Rockstar release come to the Switch, so let's all bask in this moment. This is of course the publisher's genre-defining open world western game, and you don't need me to go into too much detail about it. There are roughly a billion reviews and video essays on it already, after all. I can't speak to the quality of the port yet, but they did throw in Undead Nightmare to help sweeten the pot. The big drawback is that the online modes aren't here, and that was a big part of the fun in the original versions. Well, what can you do? Here it is: buy it, or don't.
Quantum: Recharged ($9.99)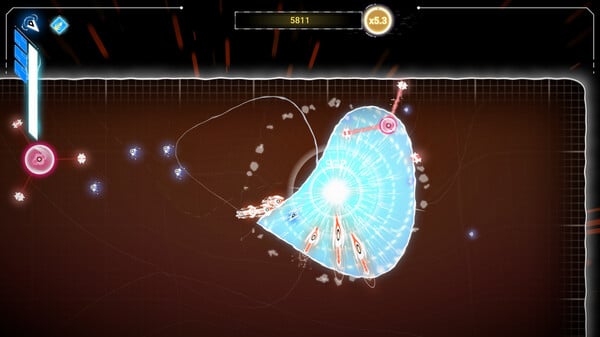 Perhaps I'm out of the loop, but I hadn't really heard of Atari's Quantum until I played it on the Atari 50 collection. I don't think the arcade original is the most amazing game in the world, but the core concept of encircling things with your ship is something this NiGHTS into Dreams fan can get behind. Perhaps this Recharged take on it will bring its ideas together into a more enticing experience? You get the familiar Recharged presentation, the familiar modes, and some new power-ups. I hope to be reviewing this one soon, but we'll have to see how the pieces fall into place.
Shinobi Non Grata ($14.99)
I've had my eye on this one for a while and I'm glad to see it's finally available on Switch. Look, I'm a game-playing fellow in my mid-40s. I see side-scrolling ninja action game, I play side-scrolling ninja action game. It's just that simple. This one seems like it's going to be a good one, with seven different weapons to make use of and a really pleasing presentation. Let's hope it lives up to its considerable potential!
Arcade Archives Dark Adventure ($7.99)
You know, I like to think I know my gaming history pretty well, but every once in a while Hamster finds something that even I haven't heard of. For example, here's a 1987 Konami game I somehow missed out on. Dark Adventure is a top-down action game for up to three players, and it draws on a lot of the same inspirations many Konami action games of the era did. Now, the fact that it has been swept away by the tides of history isn't a great sign for its quality, but that isn't a hard rule by any means. Check out the video I've put in place of the usual screenshot and you'll probably have a good idea of whether or not you want to jump in.
Marble It Up! Ultra ($29.99)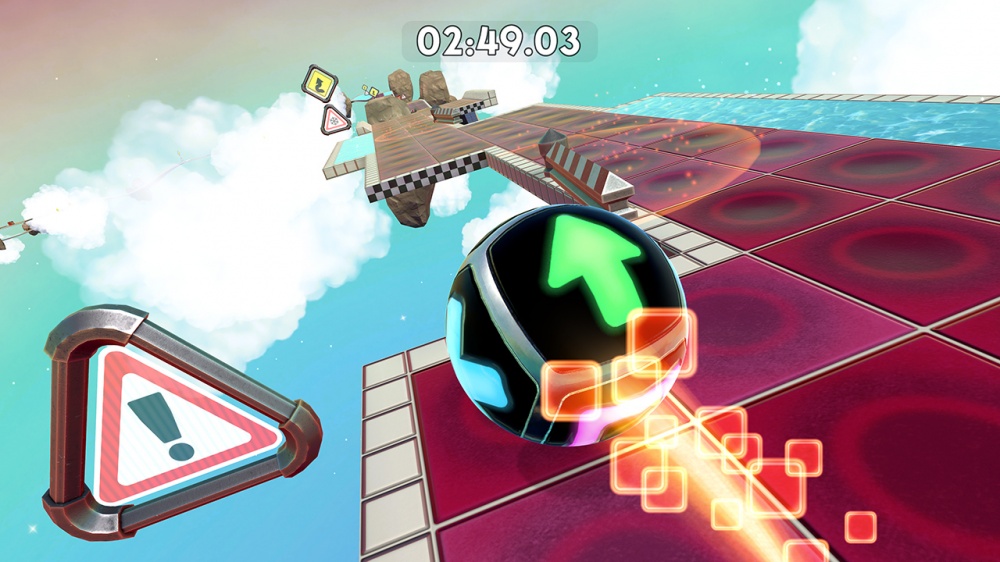 Sometimes I look at a game and look at its price and have trouble reconciling the two. This is one of those cases. And I don't know if that's fair, because this is certainly a fun, content-rich game that has plenty to offer both solo players and those who want to dabble in the online mode that supports up to eight players. There are also plenty of things to unlock, in case that's a thing you're into. Personally, I'm not sure I would pay thirty bucks for a marble roller, but if you're more game for it don't let me discourage you in the least.
Die After Sunset ($19.99)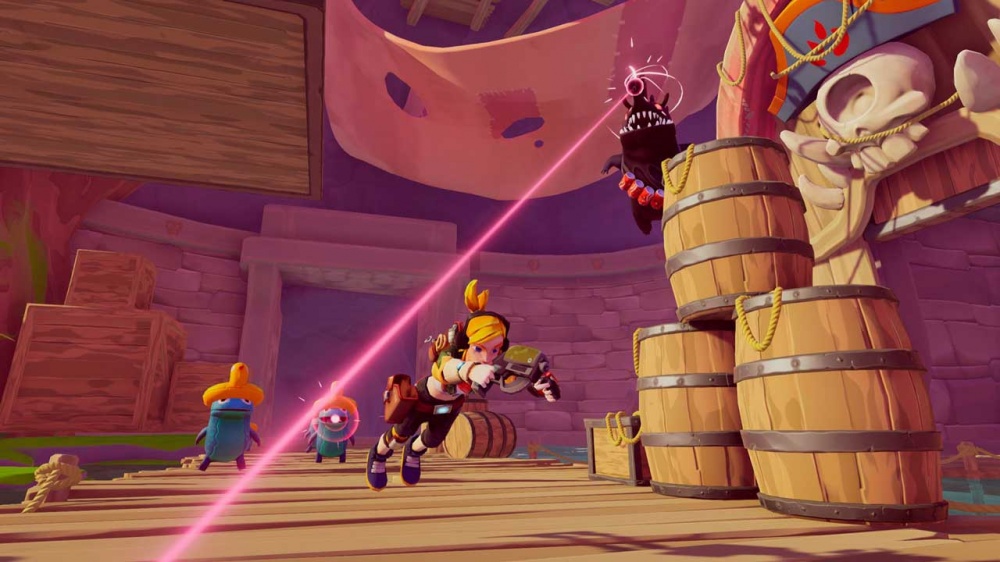 A roguelite shooter, which is something we have quite a lot of. This one is a 3D shooter though, so that's something a little less seen on the Switch. It spent a year in Early Access over on Steam, where it seems to have been liked if not loved. Well, you can probably guess how this one goes. Get as far as you can, die, upgrade, try again. Repeat until the game is finished. Certainly a popular formula, so I won't be surprised if this finds an eager audience on Switch.
Satay Shop Tycoon ($14.99)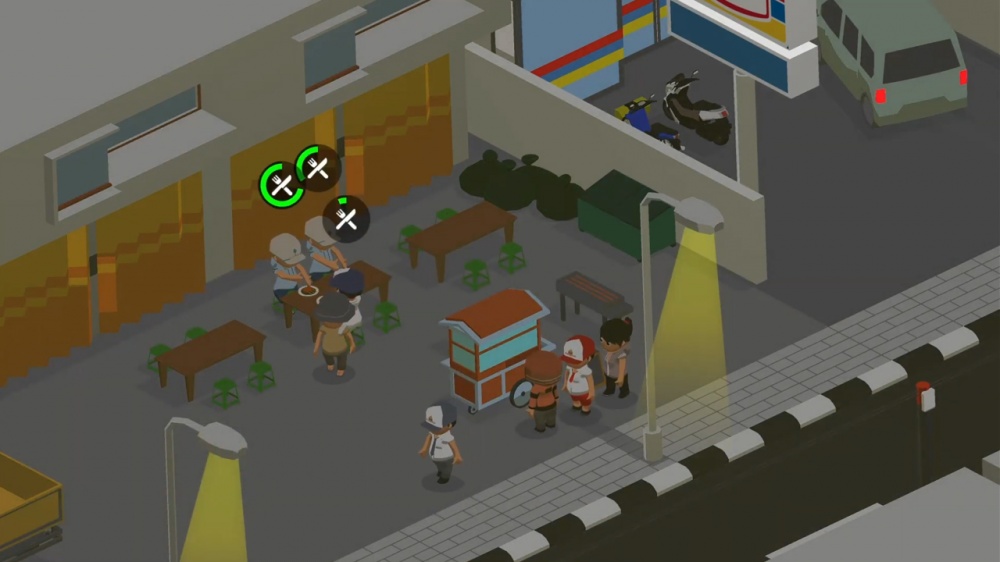 Some games offer exactly what their title suggests, and this is one of those. You run a satay business, selling food, using the money to upgrade your stuff, and selling more food after that. Loop until you're bored. Honestly, this one is a lot worse than the average Kairosoft simulation game, so I really can't recommend it unless you are irresistibly drawn in by the idea of slinging satay.
Chrome Wolf ($14.99)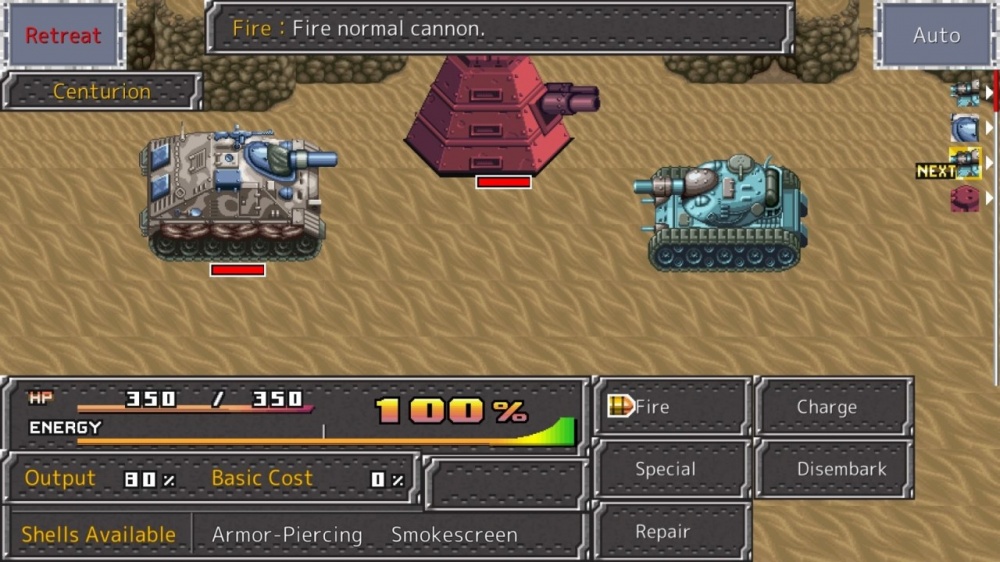 Ah, I remember this one. It's a bit of an oldie as far as KEMCO RPGs go, having released several years ago on mobile platforms. In a lot of ways it's the usual fare from this prolific publisher, but it does present the gimmick of being able to use tanks in battles. Customize your tank the way you like it and head into battle with the enemy forces. I'm not the biggest fan of the game, but I know a lot of KEMCO fans enjoyed it back in the day. Maybe you will too, if you like tanks enough?
Aery – Flow of Time ($9.99)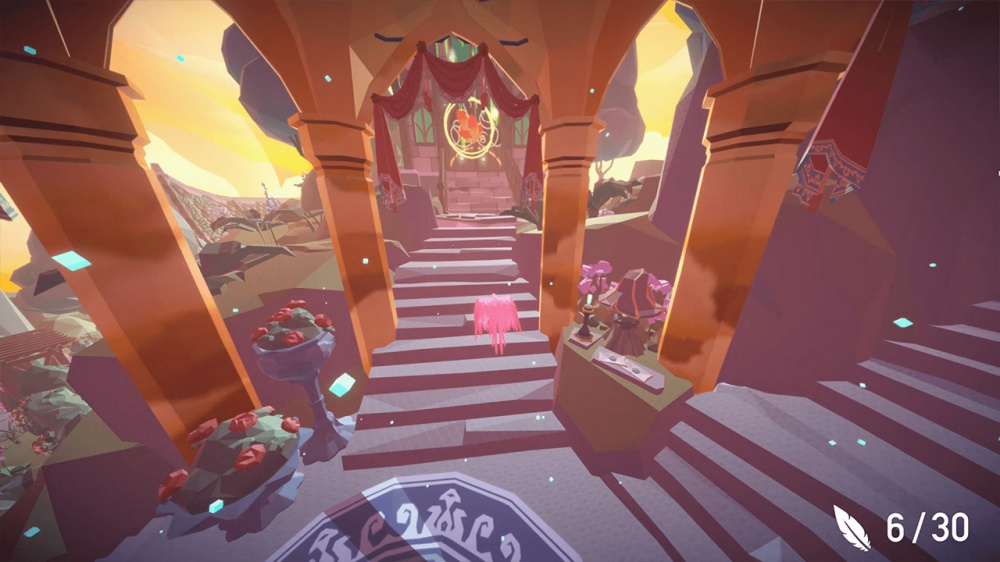 It's another Aery game. Fly around some pretty environments, collect goobers, and get some bland platitudes spewed at you. I understood why people enjoyed the first one, but I'm a bit perplexed that people are still down for the tenth one. As long as they're making people happy, I can't complain too much.
A Castle Full of Cats ($3.99)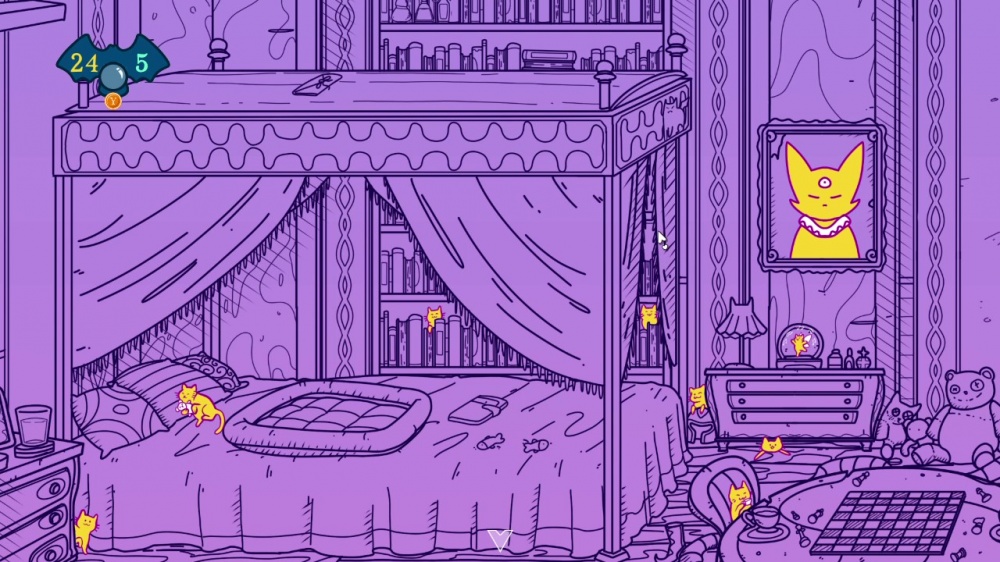 Find cats in a castle. Find secret areas in the castle and find more cats. Follow the story of why you're finding cats in a castle. If you enjoy the pure act of finding hidden objects, or you just like cats, this might be four bucks well-spent.
Hidden Shapes: Cat Realm + Trick or Cats ($4.99)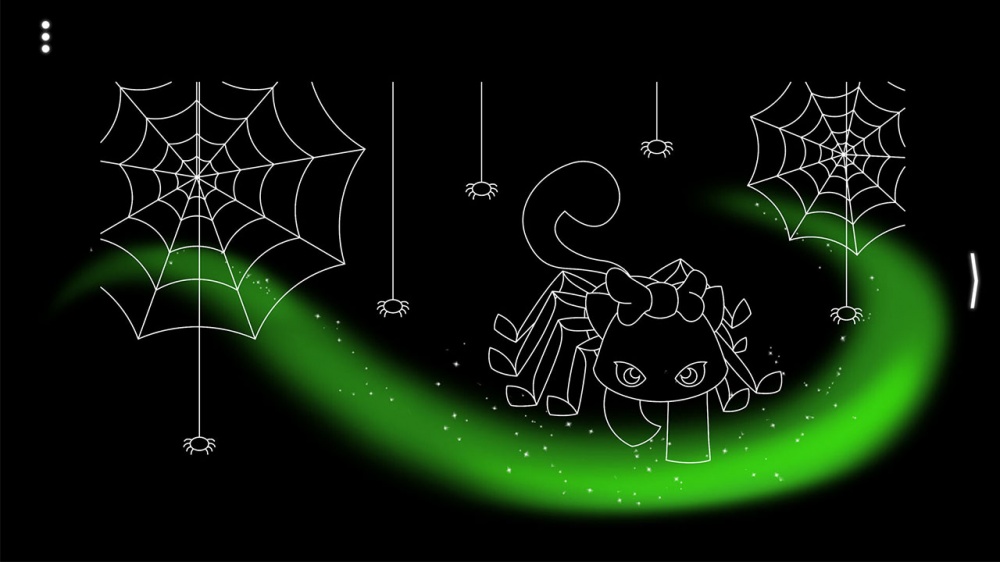 More hidden cats. These ones are hidden shapes, so the mechanism is a little different from the previous game. If you played any of the other Hidden Shapes games from QUByte, you probably know how this one works. If you like the type of puzzle they offer, you do get a fair bang for your buck.
Gauntler ($4.99)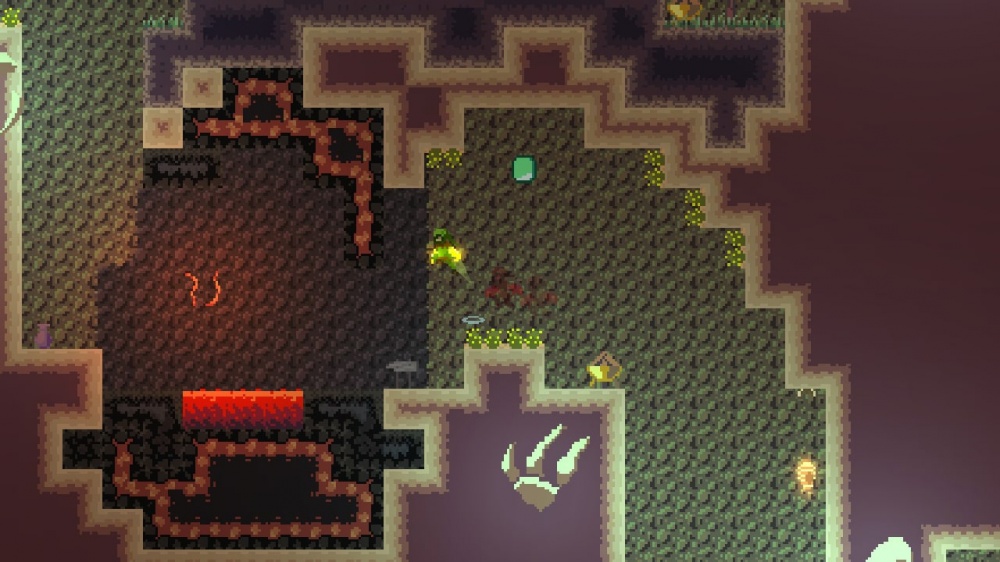 Five-dollar Switch platformer energy, served up hot. The gimmick here is that your character has a pair of magic gauntlets whose abilities will be needed to escape the mess they've gotten into. Not particularly inspiring, but not every game needs to be.
The Bin Bunch
Duck Race ($2.99)
Crypto Miner Tycoon Simulator ($19.99)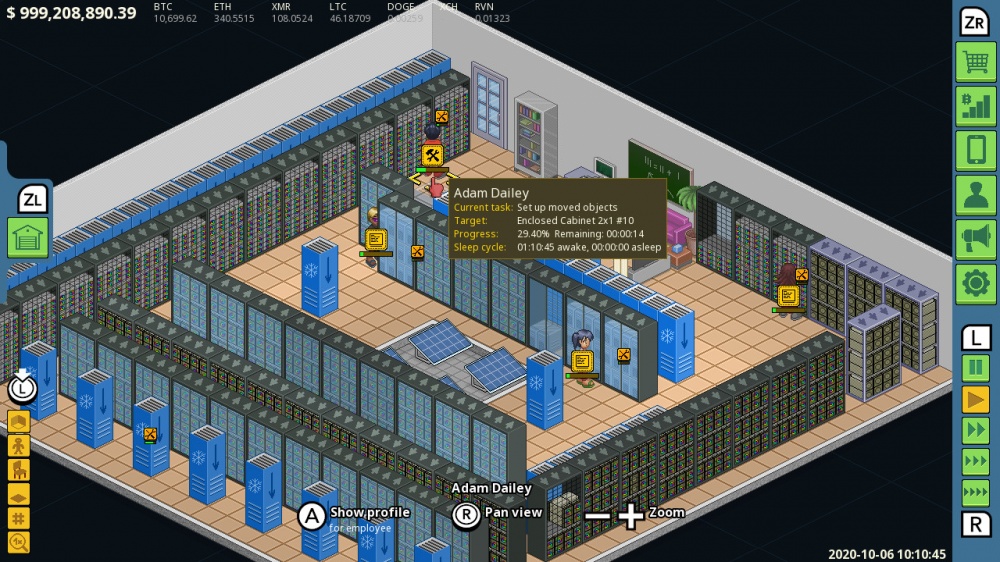 Forklift 2024 – The Simulation ($14.99)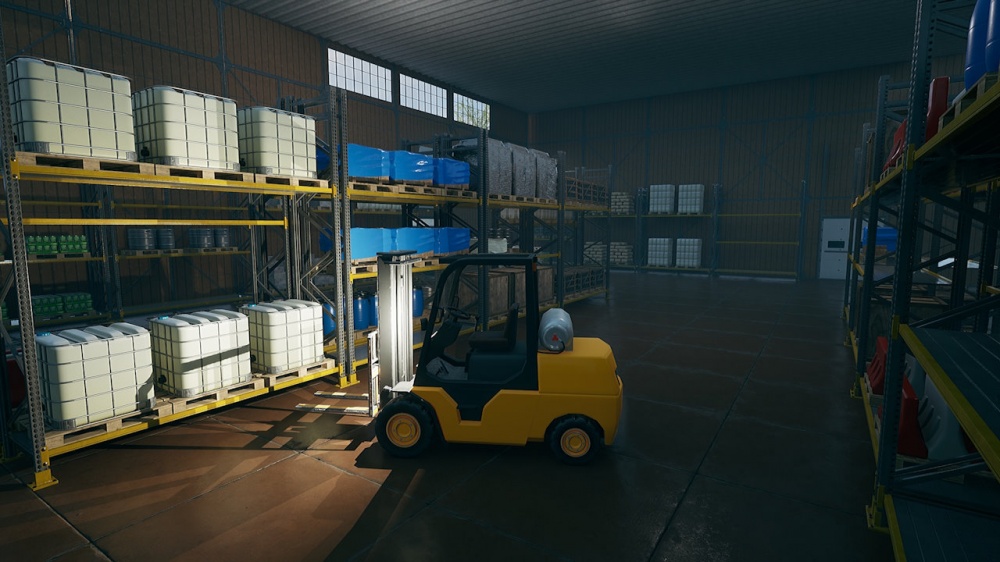 Sales
(North American eShop, US Prices)
Hmm, some interesting games in the list today. Trinity Trigger for thirty bucks certainly has more appeal than the same game at fifty, and Lonely Mountains: Downhill is at its lowest price yet. Well, check through both of those lists. They're not overly long and there are lots of good games in there.
Select New Games on Sale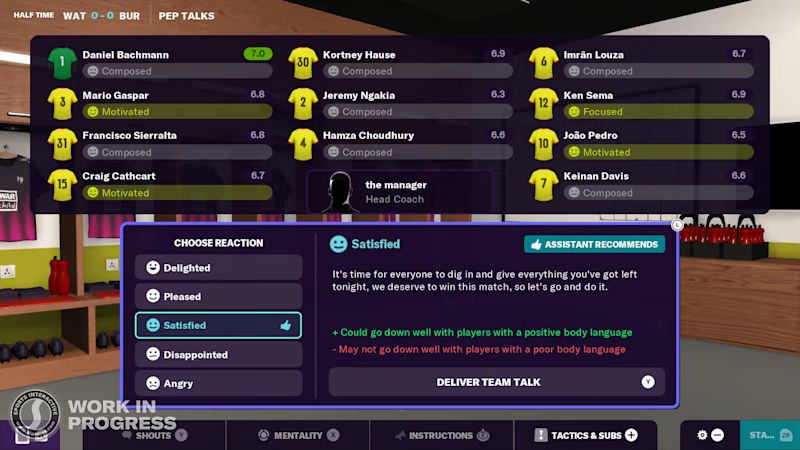 Football Manager 2023 Touch ($17.99 from $44.99 until 8/24)
Skye Tales ($11.19 from $13.99 until 8/24)
Tower Up ($1.99 from $2.99 until 8/28)
Necrosmith ($4.79 from $7.99 until 8/31)
Akiba's Trip: Hellbound & Debriefed ($8.99 from $29.99 until 8/31)
Trinity Trigger ($29.99 from $49.99 until 8/31)
Trinity Trigger Deluxe Edition ($35.99 from $59.99 until 8/31)
Brave Soldier ($3.49 from $4.99 until 9/1)
Sissa's Path ($2.99 from $4.99 until 9/1)
Neko Secret Homecoming ($6.99 from $9.99 until 9/1)
Pretty Girls Breakers Plus ($4.19 from $6.99 until 9/1)
Casual Challenge Players Club ($2.49 from $4.99 until 9/1)
Super Jagger Bomb ($1.99 from $4.99 until 9/1)
Drunken Fist ($2.79 from $7.99 until 9/1)
Swordship ($11.99 from $19.99 until 9/6)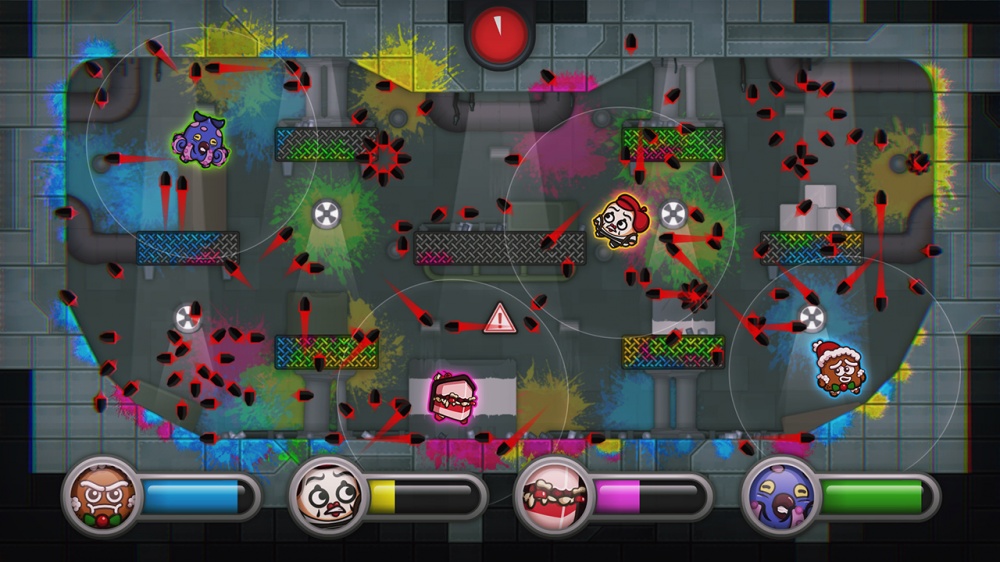 Move or Die: Unleashed ($5.99 from $14.99 until 9/6)
LEGO Bricktales ($17.99 from $29.99 until 9/6)
Curious Expedition ($3.74 from $14.99 until 9/6)
Say No! More ($3.74 from $14.99 until 9/6)
Wavetale ($17.99 from $29.99 until 9/6)
Lonely Mountains: Downhill ($7.99 from $19.99 until 9/6)
Cursed to Golf ($11.99 from $19.99 until 9/6)
Holy Potatoes! What the Hell?! ($1.99 from $15.00 until 9/6)
Firegirl: Hack 'n Splash Rescue DX ($4.49 from $17.99 until 9/6)
Sherlock Holmes The Awakened ($19.99 from $39.99 until 9/7)
123 Dots ($3.99 from $9.99 until 9/7)
MathLand ($2.39 from $5.99 until 9/7)
Sales Ending Tomorrow, Friday, August 18th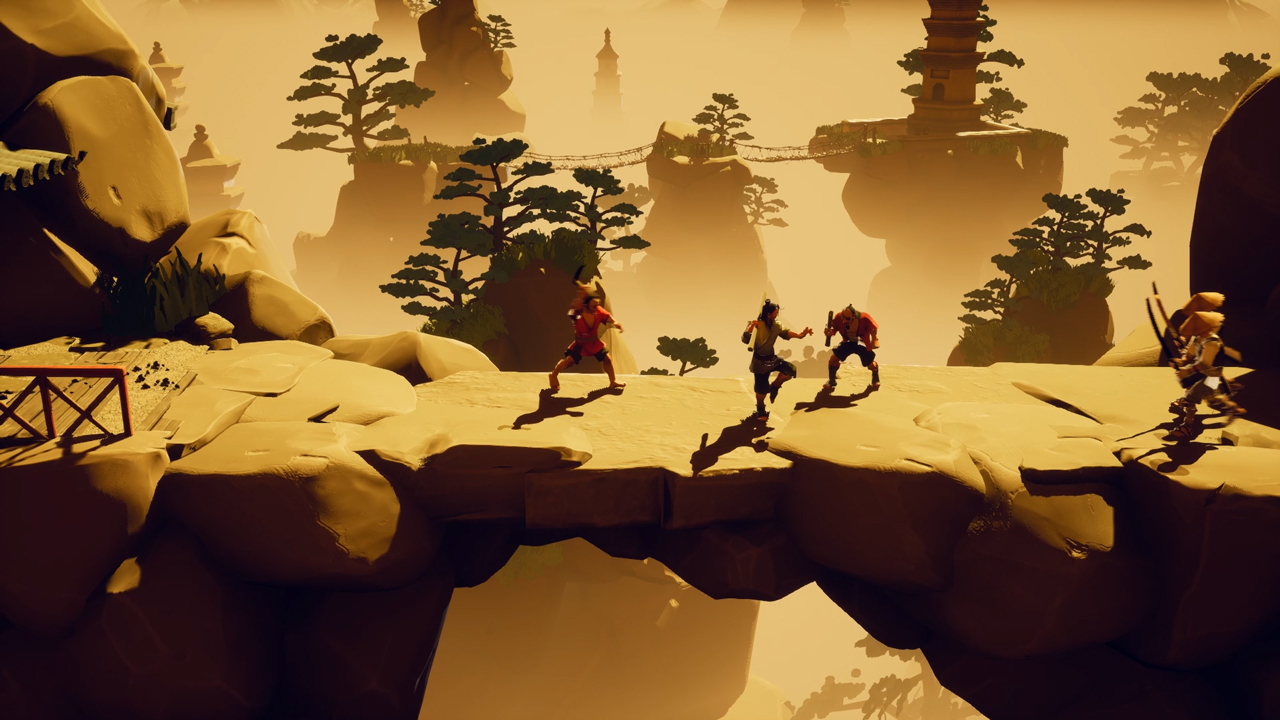 9 Monkeys of Shaolin ($2.99 from $19.99 until 8/18)
Ash of Gods: Redemption ($2.99 from $19.99 until 8/18)
Bee Simulator ($3.99 from $39.99 until 8/18)
Bust Tycoon Night and Day ($4.89 from $13.99 until 8/18)
Collab Ball ($2.04 from $4.99 until 8/18)
Dice Legacy ($3.74 from $14.99 until 8/18)
Dr. Fetus' Mean Meat Machine ($7.99 from $9.99 until 8/18)
Egglia Rebirth ($13.99 from $19.99 until 8/18)
Gemini Arms ($6.64 from $9.49 until 8/18)
Horatio Goes Snowboarding ($2.79 from $6.99 until 8/18)
Hunting Simulator 2: Elite Edition ($6.99 from $69.99 until 8/18)
King's Bounty II ($7.99 from $39.99 until 8/18)
Lila's Tale and the Hidden Forest ($1.99 from $4.99 until 8/18)
Loco Parentis ($7.79 from $9.99 until 8/18)
Lost Artifacts: Golden Island ($2.09 from $2.99 until 8/18)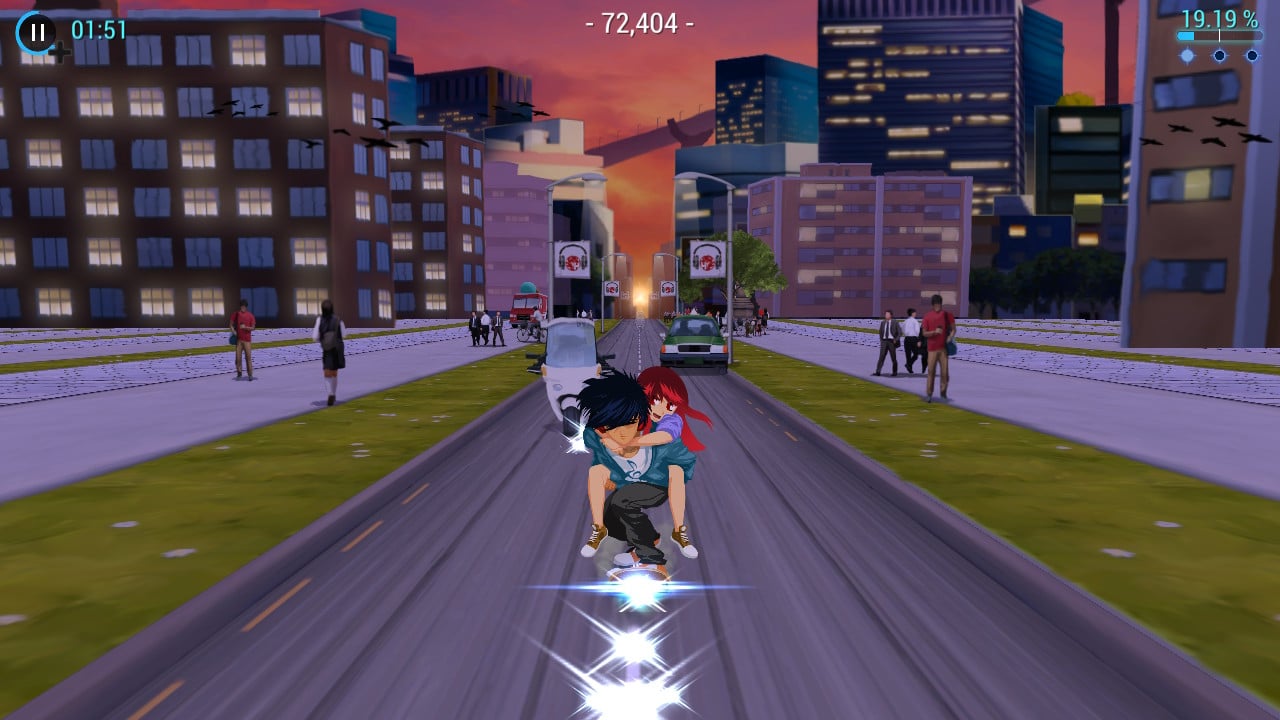 Lost in Harmony ($2.09 from $6.99 until 8/18)
Maggie the Magnet ($1.99 from $4.99 until 8/18)
Mato Anomalies ($19.99 from $39.99 until 8/18)
Mato Anomalies Digital Deluxe ($22.49 from $44.99 until 8/18)
Missile Dancer ($6.99 from $9.99 until 8/18)
Otoko Cross Pretty Boys Mahjong Solitaire ($4.19 from $6.99 until 8/18)
Panic Porcupine ($4.79 from $7.99 until 8/18)
Pretty Girls Tile Match ($3.59 from $5.99 until 8/18)
Raging Blasters ($10.29 from $14.70 until 8/18)
Redeemer Enhanced Edition ($2.24 from $14.99 until 8/18)
Road 96 ($5.98 from $19.96 until 8/18)
Road 96: Mile 0 ($10.39 from $12.99 until 8/18)
RPG Time: The Legend of Wright ($14.99 from $29.99 until 8/18)
RunBean Galactic ($2.99 from $4.99 until 8/18)
SUPERHOT ($12.49 from $24.99 until 8/18)
The Unicorn Princess ($3.99 from $39.99 until 8/18)
Wind of Shuriken ($3.19 from $7.99 until 8/18)
WRC 8 FIA World Rally Championship ($4.99 from $49.99 until 8/18)
Zorro The Chronicles ($10.49 from $34.99 until 8/18)
That's all for today, friends. We'll be back tomorrow with the remaining releases of the week, plus whatever sales and news roll in during the day. I went and watched Barbie today with Mrs. Musgrave. An odd movie, but a very good one. This concludes Shaun's Hot Movie Reviews for the day. I hope you all have a great Thursday, and as always, thanks for reading!
GAMESLOVERS
"Stay in the loop with the latest in the gaming world! Our games news brings you up-to-date information on upcoming releases, industry trends, gameplay updates, and more. From immersive RPGs to heart-pounding action games, we've got your source for all things gaming. Level up your knowledge with our bite-sized updates on the gaming universe."