Blackout explores for items and tools through a house filled with corpses and unsettling creatures, but maybe things aren't quite what they seem to be.
Marilyn is a witch who finds herself on the roof of a strange house. She's feeling a bit fuzzy about things, so now's not a good time to fly away on her broom. To play it safe, she heads into the house to explore and figure out what's going on. The place is filled with all manner of eerie sights and oddball creatures, but none of them seem terribly focused on causing her harm. Probably. As such, you will be moving through the house with care, looking for items that will unlock paths and allow you to progress. Maybe even keep some of these unsettling presences happy, too. Who knew that tub monsters liked jerky?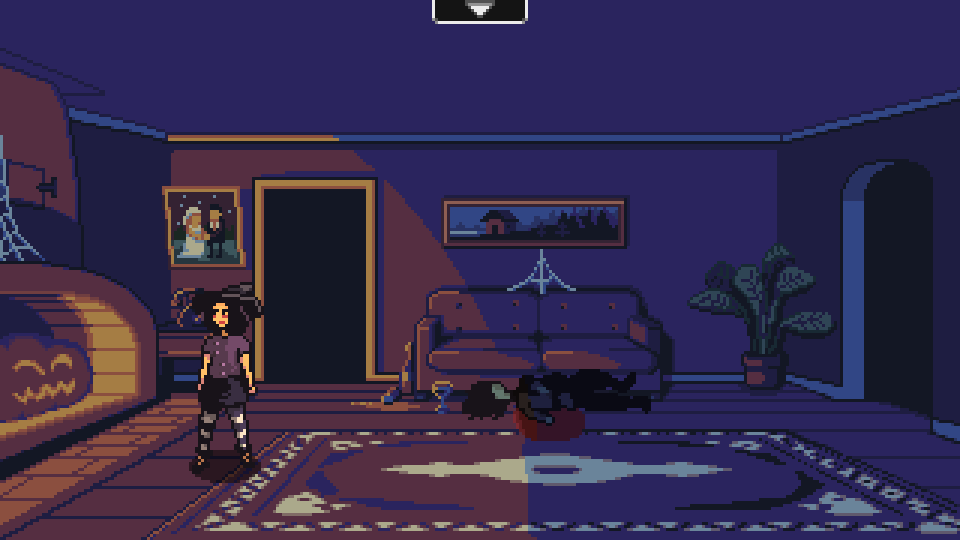 As an adventure game, some of its puzzles can be a fair bit challenging. There's not much indication on what items are important or not, so you'll be clicking on things often. Thankfully, the eerie creatures keep things interesting as you explore. There's always this sense that, while they're not terribly active in seeking your demise, they might change their minds. There are a lot of weird things in the house, and a fair amount of dead bodies. It feels like things could go awry at any time. There is a bit of a twist at the end, though, but it takes the game in a very different direction from most of the horror I've played. It was a nice touch that capped off a good, creepy adventure.
Blackout can be a tougher adventure game, but it's brief, filled with neat monster designs, creates good tension, and has an enjoyable ending I didn't see coming.

Blackout is available now on itch.io.
GAMESLOVERS

"Stay in the loop with the latest in the gaming world! Our games news brings you up-to-date information on upcoming releases, industry trends, gameplay updates, and more. From immersive RPGs to heart-pounding action games, we've got your source for all things gaming. Level up your knowledge with our bite-sized updates on the gaming universe."